When it comes to the art of drifting, Nikolass Bertans is a true master. Known for his exceptional skills and precision behind the wheel, he has earned a reputation as one of the most talented drifters in the Baltics and beyond.
As a drifter, "NikNak" pushes the limits of control and skill, effortlessly manoeuvring his car through hairpin turns and tight corners. His ability to maintain control while executing high-speed slides is nothing short of awe-inspiring. With years of experience under his belt, Nikolass Bertans has honed his craft to perfection.
Nikolass "NikNak" Bertans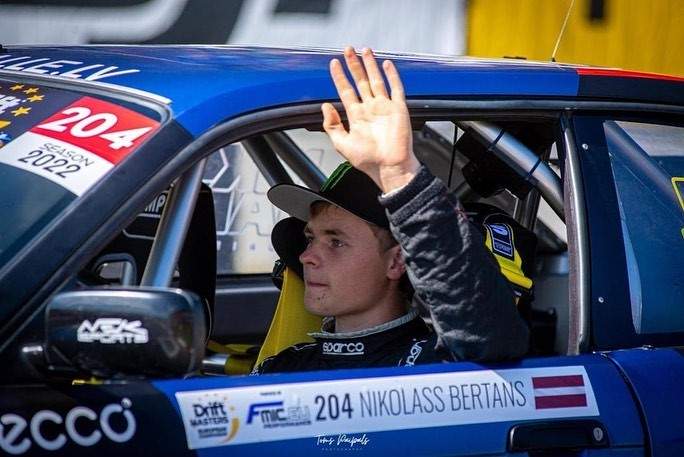 Nikolass Bertans drifter's profile.
By age of just 5 years, he first got in touch with drifting by inspiration from his dad and his friends. He then became interested and addicted to the sport and ultimately started driving when he turned 9 years old.
By age 12, he already had assistance and coaching from Latvian drift legend Kristaps Blušs. As a result, the media became aware of the young Latvian and reported about him in all kinds of online and offline publications. The media hype hardly impressed him, so he soon participated in the first competitions. His dedication to mastering every aspect of drifting sets him apart from others in the field. From understanding vehicle dynamics to reading track conditions, he possesses an unparalleled level of expertise that allows him to execute flawless drifts repeatedly.
To this day, he has collected many trophies all over Europe. He is already a Latvian Champion, Baltic Champion, NEZ Drift Champion, Iron Drift King Champion, and many other trophies. His commitment to pushing boundaries and constantly improving has made him a force to be reckoned with in the drifting world. In conclusion, Nikolass Bertans is more than just a drifter – he is a true master of his craft. His unmatched skill and dedication have solidified his place among the elite in the world of drifting.
As he continues to push boundaries and inspire others, there's no doubt that Nikolass Bertans will leave an indelible mark on this exhilarating motorsport for years to come.
You have won several championships, from events in the Baltics and RDS in Russia to Driftmasters. Which championship or event is the most thrilling for you, and why?
All events and championships have their own unique venue. Everything new is fun.
To this day, you have already collected a lot of trophies. Which one is left?
I would want to go to the USA for Formula Drift. That's something me and my dad have been aiming for.
What do you believe is necessary to attain this?
To achieve this, we need to practice, work hard, and find the budget and support for this dream journey.
Your driving style is consistently flat-out all the time. What's your secret to completing the run without spinning or crashing into the wall?
I'm not always flat out, but I've been driving with lower-power cars, and that's what I'm used to, driving-wise.
You described your engine and overall setup as "reliable and cheap", but now it's broken. What will you be driving at Driftmasters in a couple of days?
I did break my engine at round one [Baltic Drift Championship], but our friends from Blueprint Engines had a solution that we had available as soon as possible, so for Drift Masters, we have a car with 620HP, and hopefully, we can fight with what we have.
What are your plans for the future? Are you considering new championships, a full DMEC campaign, or perhaps even building a new car from scratch?
The future is bright and full of opportunities, but I'm not sure what we will do.