A new European schedule is on the way, with 7 venues spread across 6 countries! Tököl, the classic Hungarian drift arena, remains our season opener with drifted.hu.
Afterwards, we're heading south to the Serres racing circuit in Greece for our season's first visit. The first great news is to have France back at the ultrafast Anneau du Rhin track, and we expect a fantastic event co-organized with MSO Drift Cup.
As we reach half season, we'll return to a country we've missed so much, Austria, the heart of Europe and home to one of the most exciting drift layout. Another great new track is on the agenda: Raceland Krsko, a compact drift arena located in beautiful Slovenia, where we will face a big challenge from the locals!
Then as round 6 for the Pro Series, but as the final for the Pro2 Series and Queen Series, Serres is always immensely popular with drivers and fans. For the second visit of the season, we will crown the new Pro2 and Queen champions. The European ProSeries season will end on a high this year on the magic island of Cyprus. We will crown our ProSeries champion for the first time at Achna Speedway.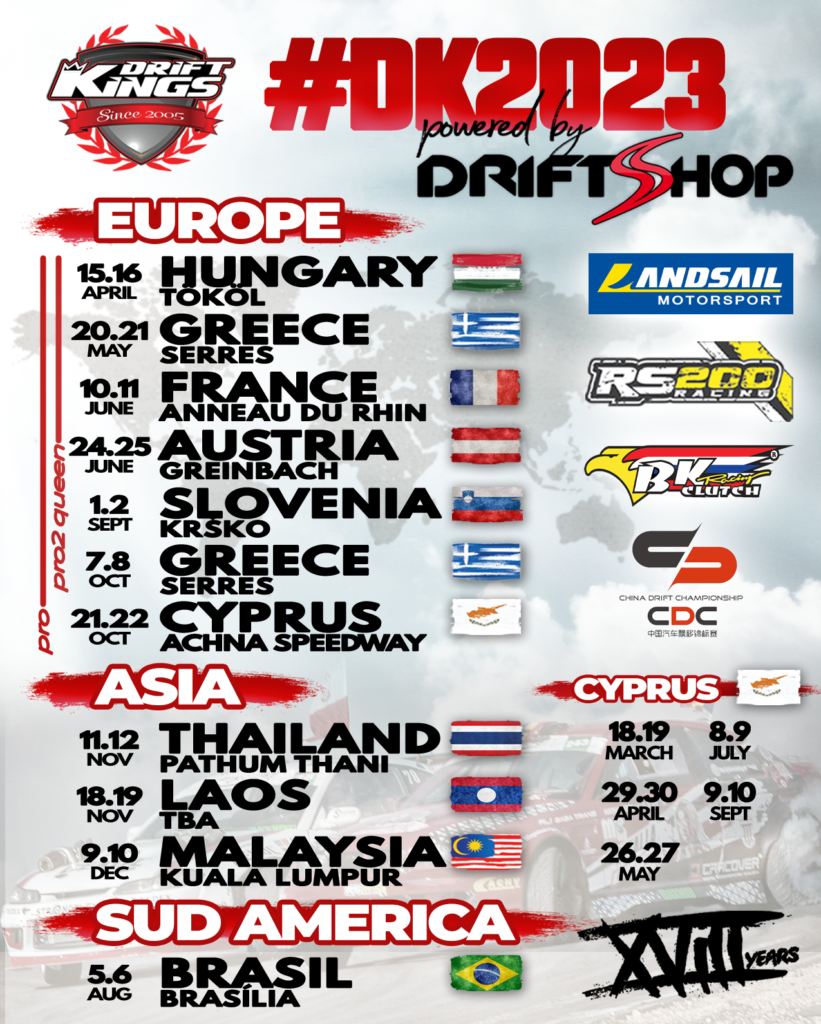 Drift Kings Asia
We established Drift Kings Asia in 2015 as our first series outside of Europe. For 2023, a first visit to Laos is planned for November, marking our seventh season in Asia. The Asia Series will consist of 6 rounds spread across 3 countries, including Thailand and Malaysia. What better way to end this press release than talking about Brazil, CADC club, and Andre Silva bringing us back to sunny South America, the continent full of passion for drifting. We can assure you that our drift summer will be running with samba music! With 18 years of experience, we will continue supporting PowerDrift Club Cyprus and the Cyprus National Series. We thank them for their trust and are committed to providing them with the best experience possible! Michael Procureur, CEO of Drift Kings, said, "The Drift Kings team has been working hard on delivering an exciting 2023 calendar.
We aim to ensure you can continue enjoying a thrilling series throughout the year! For 18 years, we have proven ourselves as one of the most resilient series. We are incredibly grateful for your continuous trust and support as we move forward.". A professional drifting championship since 2005, Drift Kings is considered the oldest on the continent. For 2023, we anticipate more fans, excitement, and full driver rosters than ever. Until then, here is the official schedule for the tire-smoking action of this year:
International Events
EUROPE RD1 – APRIL 15/16 HUNGARY TOKOL
EUROPE RD2 – MAY 20/21 GREECE SERRES
EUROPE RD3 – JUNE 10/11 FRANCE ANNEAU DU RHIN
EUROPE RD4 – JUNE 24/25 AUSTRIA GREINBACH
EUROPE RD5 – SEPTEMBER 1/2 SLOVENIA KRSKO
EUROPE RD6 / FINAL PRO2-QUEEN – OCTOBER 7/8 GREECE SERRES
EUROPE PRO FINAL – OCTOBER 21/22 CYPRUS ACHNA
ASIA RD1/RD2 – NOVEMBER 11/12 THAILAND ASIA
RD3/RD4 – NOVEMBER 18/19 LAOS
ASIA RD5/FINAL – DECEMBER 9/10 MALAYSIA
SUD AMERICA SUPERCUP – AUGUST 5/6 BRASIL BRASILIA
National Events
CYPRUS RD1 – MARCH 18/19
CYPRUS RD2 – APRIL 29/30
CYPRUS RD3 – MAY 26/27
CYPRUS RD4 – JULY 8/9
CYPRUS FINAL – SEPTEMBER 9/10
Join us on Telegram : https://t.me/driftkings_telegram
Join us on Instagram : https://www.instagram.com/driftkings_ig
Join us on Twitter : https://twitter.com/driftkings_tw
Interested parties can learn more about us on the official website: http://www.driftkings.com Partnership information is available here: http://www.driftkings.info