DMEC – Drift Masters European Championship season 2022 results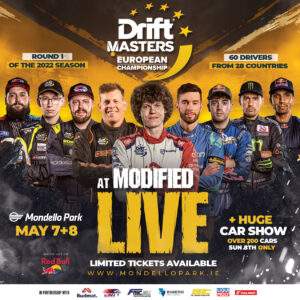 Round 1: Ireland
For the most insane season attempted by DMEC, we must start at one of the most insane drift tracks anywhere in Europe, which sees DMEC 2022 start in Ireland's Mondello Park. Home to some of the European drifting's most incredible memories, Mondello Park's original "Japfest" layout features a high-speed run-in, various elevation changes, and everything else needed to make sure the drivers are door-on-door from start to finish. Expect fireworks when Drift Masters returns to Ireland for the first time in years in front of 10,000+ adoring DMEC fans.
---
Round 2: Austria
Having had some time to tidy their machinery after Mondello's madness, our DMEC driver grid next up travels to the fast, technical, and challenging PS Racing Center in Greinbach, Austria. With changes to the track in 2021 already making the circuit more challenging and competitive than ever before, more upgrades all around the venue mean our Austrian return will surely have fans screaming so loud they'll be heard all across the continent.
---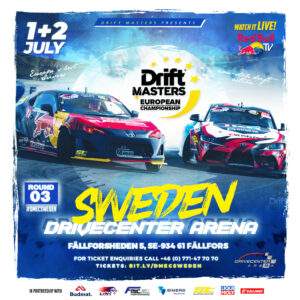 Round 3: Sweden
For the first time in our history, the Drift Masters European Championship will pack its bags and head for Scandinavia as we hit the road for the Drivecenter Arena AB in Sweden. Having only opened its doors for the first time in 2019, this brand-new circuit is new to the DMEC calendar and will be new to almost all of our DMEC driver grid. With this making sure we have the most incredibly even playing field to round out the first half of the season, expect our drivers to give it 110% as they aim to top the points standings going into the final 3 rounds.
---
Round 4: Latvia
It's Riga, baby! It will be no surprise that the world's most famous drift event returns in 2It's Riga, baby! It will come as no surprise that the world's most famous drift event returns again in 2022 and nobody will be unhappy with that. As always, fans can expect an extreme full-throttle layout, crazy parades and all the mayhem a European drift event should contain. Couple that with talk of the biggest after-party Riga has ever seen, and you've got a recipe for what might top the list of the craziest drift events Europe has seen to date. This one is going to be truly insane.
---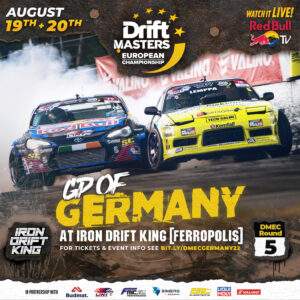 Round 5: Germany
Thought we forgot about Germany's incredible "City of Iron"? Think again! For the penultimate round of DMEC 2022, we return to the madness of the Iron Drift King event in Ferropolis' open-air colosseum, where our DMEC drivers will push harder than ever in front of the possibly the craziest backdrop of any drift event anywhere in the World, to see who will take one step closer to becoming the 2022 Drift Masters European Champion at our season finale.
---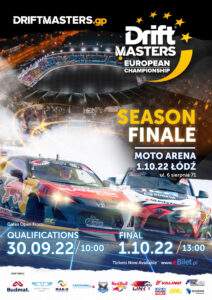 Round 6: Poland
After the Kazimierz Górski Stadium in Płock and Torún's Speedway Stadium were permanently placed in the DMEC history books, it may have appeared that the days of a stadium event in Drift Masters were over. Still, we're delighted to announce that in 2022 a stadium event will return to the DMEC calendar. For our season finale, we will be heading to the Moto Arena in Łódź, where a custom-built circuit will be constructed to ensure the 2022 title fight goes down to the absolute wire. With our previous 5 rounds already pushing our drivers and their machinery to near breaking point, our season finale will prove that to become a champion, one driver must push harder than they ever thought possible to have their name engraved on the Drift Masters European Championship trophy.
Final overall standings
| # | Drifter | Country | R1 Ireland 🇮🇪 | R2 Austria 🇦🇹 | R3 Sweden 🇸🇪 | R4 Latvia 🇱🇻 | R5 Germany 🇩🇪 | R6 Poland 🇵🇱 | Total |
| --- | --- | --- | --- | --- | --- | --- | --- | --- | --- |
| 1 | Piotr WIECEK | POL | 105 | 86 | 54 | 108 | 37 | 85 | 475 |
| 2 | Jack SHANAHAN | IRL | 72 | 52 | 108 | 39 | 107 | 39 | 417 |
| 3 | Conor SHANAHAN | IRL | 54 | 105 | 53 | 69 | 72 | 24 | 377 |
| 4 | James DEANE | IRL | 71 | 56 | 69 | 85 | 22 | 70 | 373 |
| 5 | Tor Arne KVIA | NOR | 36 | 71 | 69 | 69 | 37 | 21 | 303 |
| 6 | Duane McKEEVER | IRL | 53 | 37 | 87 | 20 | | 52 | 249 |
| 7 | Juha RINTANEN | FIN | 36 | 19 | 53 | 51 | 37 | 52 | 248 |
| 8 | Adam ZALEWSKI | POL | 36 | 69 | 21 | 53 | 20 | 36 | 235 |
| 9 | Oliver EVANS | WAL | 19 | | 36 | 19 | 35 | 104 | 213 |
| 10 | Benediktas ČIRBA | LTU | 20 | 36 | 51 | 20 | 52 | 20 | 199 |
| 11 | Jakub PRZYGONSKI | POL | 52 | 35 | 36 | 36 | 19 | | 178 |
| 12 | Orjan NILSEN | NOR | 53 | 20 | 1 | 54 | 21 | 21 | 170 |
| 13 | Diogo CORREIA | POR | 19 | 53 | 1 | 19 | 35 | 37 | 164 |
| 14 | Henri HAANPÄÄ | FIN | 19 | 19 | 36 | 35 | 36 | 19 | 164 |
| 15 | Marco ZAKOURIL | CZE | 19 | 20 | 35 | 19 | 53 | 1 | 147 |
| 16 | Kevin PISKOLTY | HUN | 35 | 19 | 20 | 1 | 20 | 52 | 147 |
| 17 | Lauri HEINONEN | FIN | 1 | 35 | 36 | 19 | 19 | 37 | 147 |
| 18 | Yaroslav TRESH | UKR | | 36 | 36 | 35 | 19 | 19 | 145 |
| 19 | Oliver RANDALU | EST | 84 | 19 | 1 | 19 | 1 | 19 | 143 |
| 20 | Jakub KROL | POL | 19 | 1 | 1 | 19 | 51 | 52 | 143 |
| 21 | Joakim ANDERSSON | SWE | | 20 | 19 | 36 | 35 | 19 | 129 |
| 22 | Felix LINDVALL | SWE | 1 | 36 | 35 | 1 | 19 | 35 | 127 |
| 23 | Pawel KORPULINSKI | POL | | 20 | | 20 | 84 | 1 | 125 |
| 24 | Alex HOLOVNIA | UKR | | 51 | 19 | 1 | 19 | 19 | 109 |
| 25 | Dawid KARKOSIK | POL | | 1 | 19 | 20 | 1 | 67 | 108 |
| 26 | Andrius VASILIAUSKAS | LTU | 36 | 1 | | 1 | 67 | 1 | 106 |
| 27 | Mika KESKI-KORPI | FIN | 1 | 1 | 19 | 19 | 19 | 36 | 95 |
| 28 | Nikolass BERTANS | LVA | | | | 53 | 35 | | 88 |
| 29 | Max HEIDRICH | GER | 19 | 21 | 1 | 1 | 20 | 19 | 81 |
| 30 | Christian ERLANDSSON | SWE | 19 | 19 | 19 | 1 | 1 | 19 | 78 |
| 31 | Stephen BIAGIONI | GBR | | | | | 51 | 19 | 70 |
| 32 | Nodo KODUA | GEO | | 35 | | 35 | | | 70 |
| 33 | Norbert ZAMECZ | HUN | | 1 | 19 | 1 | 20 | 19 | 60 |
| 34 | Pontus HARTMAN | SWE | | 19 | 1 | 19 | 1 | 19 | 59 |
| 35 | Enver HASKASAP | CYP | | 1 | 19 | 1 | 1 | 35 | 57 |
| 36 | Max COTTON | GBR | 35 | | | 1 | 19 | | 55 |
| 37 | Stavros GRILLIS | GRE | 19 | 35 | | | | | 54 |
| 38 | Michal REICHERT | CZE | | 1 | 19 | 20 | 1 | 1 | 42 |
| 39 | Axel FRANCOIS | FRA | 19 | 1 | 19 | 1 | 1 | | 41 |
| 40 | Maciej JARKIEWICZ | POL | 19 | 1 | | 19 | 1 | 1 | 41 |
| 41 | Calin CIORTAN | ROU | 19 | 19 | | 1 | 1 | 1 | 41 |
| 42 | Alan HYNES | IRL | 21 | | | | 19 | | 40 |
| 43 | Victor JOENSUU | SWE | | 19 | 20 | 1 | | | 40 |
| 44 | Kalle ROVANPERA | FIN | 37 | | | | | | 37 |
| 45 | Juha PÖYTÄLAAKSO | FIN | | | 36 | | | | 36 |
| 46 | Kevin QUINN | IRL | 36 | | | | | | 36 |
| 47 | Max MILLER | UKR | | | | | 1 | 35 | 36 |
| 48 | Janis JURKA | LVA | | | | 35 | | | 35 |
| 49 | Ivo CIRULIS | LVA | | | | 35 | | | 35 |
| 50 | Steve LEIBER | FRA | 1 | 1 | 1 | 1 | 19 | 1 | 24 |
| 51 | Rostyslav RARAHOVSKYI | UKR | | 1 | 1 | 1 | 1 | 19 | 23 |
| 52 | Manuel VACCA | ITA | 1 | 19 | | 1 | 1 | 1 | 23 |
| 53 | Mikolaj ZAKRZEWSKI | POL | | 1 | | 19 | 1 | 1 | 22 |
| 54 | Linus JOENSUU | SWE | | 19 | 1 | 1 | 1 | | 22 |
| 55 | Edgars KROGERIS | LVA | | | | 20 | | | 20 |
| 56 | Jason BANET | FRA | | | | | 20 | | 20 |
| 57 | Clemens KAUDERER | AUT | | 19 | | | 1 | | 20 |
| 58 | Ville KAUKONEN | FIN | | | 19 | 1 | | | 20 |
| 59 | Terence FUREY | IRL | 19 | | | | | | 19 |
| 60 | Philip AGREN | SWE | | | 19 | | | | 19 |
| 61 | Mikael JOHANSSON | SWE | | | 19 | | | | 19 |
| 61 | Tomas FALVEY | IRL | 19 | | | | | | 19 |
| 63 | Andreas LILJA | SWE | | | 19 | | | | 19 |
| 64 | Dawid SPOSOB | POL | | | | | | 19 | 19 |
| 65 | Alan DELANEY | IRL | 19 | | | | | | 19 |
| 66 | Rodrigo GALLO | ARG | | 1 | 1 | 1 | 1 | 1 | 5 |
| 67 | Franz KUNCIC | AUT | | 1 | | 1 | 1 | 1 | 4 |
| 68 | Daniel BRANDNER | AUT | 1 | 1 | | | 1 | 1 | 4 |
| 69 | Sebastian SZYMANSKI | POL | | 1 | | 1 | 1 | 1 | 4 |
| 70 | Benjamin BOULBES | FRA | 1 | | | 1 | 1 | | 3 |
| 71 | Elias HOUNTONDJI | GER | | | | 1 | 1 | | 2 |
| 72 | Tomas KIELY | IRL | 1 | | | | 1 | | 2 |
| 73 | Pawel KUBIAK | POL | | | | 1 | 1 | | 2 |
| 74 | Johannes HOUNTONDJI | GER | | | | 1 | 1 | | 2 |
| 75 | Jim OLOFSSON | SWE | | | 1 | | | | 1 |
| 75 | Pawel GROSZ | POL | | | | | | 1 | 1 |
| 77 | Kevin PESUR | EST | | | | 1 | | | 1 |
| 77 | Milos DJORDJEVIC | SRB | | 1 | | | | | 1 |
| 79 | Massimo CHECCHIN | ITA | | 1 | | | | | 1 |
| 80 | Mathias JOHANSSON | SWE | | | 1 | | | | 1 |
| 80 | Simone PAGANI | ITA | | 1 | | | | | 1 |
| 82 | Jimmy GUSTAFSSON | SWE | | | 1 | | | | 1 |
| 82 | Blaine RAFFERTY | IRL | 1 | | | | | | 1 |
| 82 | Adam KERENYI | HUN | | 1 | | | | | 1 |
| 85 | Niko MÄÄTTÄLÄ | FIN | | | | 1 | | | 1 |
| 86 | Mateusz SUSKI | POL | | | | | | 1 | 1 |
| 86 | Stephen FITZGERALD | IRL | 1 | | | | | | 1 |
| 86 | Conor FALVEY | IRL | 1 | | | | | | 1 |
| 89 | Lukasz TASIEMSKI | POL | | | | | | 1 | 1 |
| 90 | Grzegorz HYPKI | POL | | | | | | 1 | 1 |
| 90 | David SKOGSBY | SWE | | | 1 | | | | 1 |
| 92 | Mathias LOCATELLI | FRA | | | | | 1 | | 1 |
| 93 | Mattia CONTI | ITA | | 1 | | | | | 1 |
| 94 | Eryk GOCZAL | POL | | | | | | 1 | 1 |
| 95 | Teemu PELTOLA | FIN | | | | 1 | | | 1 |
| 96 | Michael JACH | GER | | 1 | | | | | 1 |
| 97 | Valdas VINDŽIGELSKIS | LTU | | | | 1 | | | 1 |
| 97 | Salvatore PIGNANELLI | ITA | | 1 | | | | | 1 |
| 99 | Kristjan SALLU SALMRE | EST | | | | 1 | | | 1 |
| 100 | Ao VAIDA | EST | | | | 1 | | | 1 |