In a season that didn't see a repeat winner until Round 6, DeNofa has now claimed his third victory and extended his lead in the 2023 Formula DRIFT PRO Championship to 53 points.
DeNofa triumphed in the Final against Field following a high-speed collision into Outside Zone 1 when the Corvette appeared to find grip and speared the rear of the Mustang. After repairs were made, DeNofa did enough on the second run to claim victory.

RTR Motorsports drivers have won five of the seven rounds. Field and Bakchis are the only other winners. Aasbo and Olsen have yet to claim victory.
Field's second-place finish jumps him from fourth to second in the Championship chase. However, the substantial points difference to DeNofa will be difficult to overcome during the Final Round at Irwindale Speedway on October 13-14. Difficult, but not impossible, as history has proved…
Olsen eliminated team leader Aurimas Bakchis (Lithuania) on his way to third, elevating himself to third in the Championship, 77 points behind DeNofa. In his first year driving the Team Feal Nissan, Olsen retains a mathematical chance of winning the title.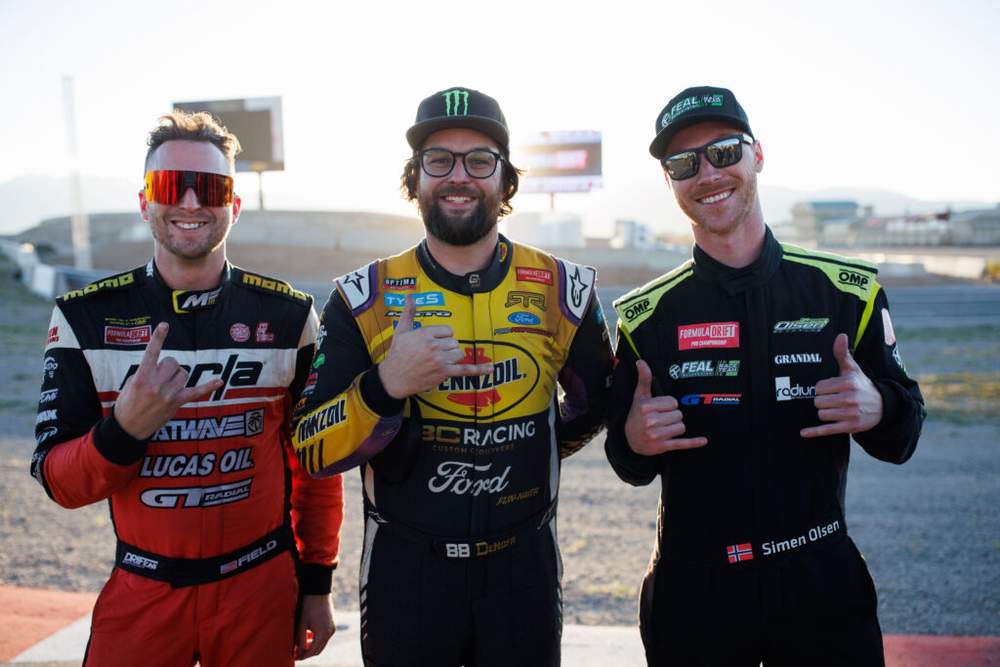 Reigning Champion Fredric Aasbo (Norway), driving the Rockstar Energy Toyota GR Supra, was knocked out of the Great 8 by teammate Ryan Tuerck (USA) driving the Rain-X / Nitto Tire / Rockstar Energy GR Corolla. Aasbo dropped from second to fourth in the title race, and with an 81-point deficit, he seems unlikely to take his fourth title. Tuerck succumbed to Field in the Final 4, finishing fourth overall, moving one place to seventh in the FD PRO standings.
After seven rounds, Ford has won the 2023 Formula DRIFT PRO Auto Cup, and Nitto continues to lead the Tire Cup.