K
Reigning DMEC champion Piotr Wiecek has well and truly stated his claim for the 2022 DMEC championship title as he has topped qualifying here at the Bikernieki Circuit in Riga, Latvia on day 1 of DMEC Round 4.
In a repeat of what Jack Shanahan did in Sweden, it was also Wiecek's turn to wow us by putting in a near-perfect 99-point run on the very last run of today's Qualifying session.
However, not one to make it easy for his fellow championship contender, Round 3 winner Jack Shanahan came in in second place with a 98-point score, making sure Wiecek knows he's here to throw down.
Rounding out the top 3 then – back having repairing his car after a huge crash at Round 3 in Sweden – was Norwegian driver Orjan Nilsen, who was visibly delighted to score a 94-point run to position himself nicely for tomorrow's Top 32 battle action.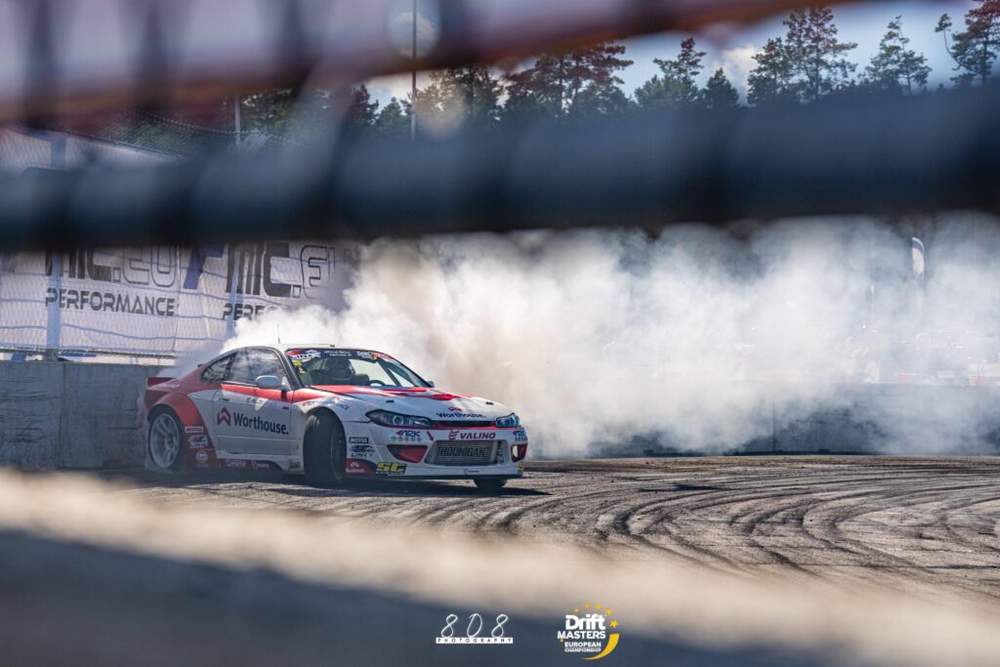 With a bumper action-packed Qualifying session now over and done with, our Round 4 action resumes tomorrow here in Riga, where Top 32 battles kick off at 3.15pm local Latvian time (EEST) exclusively live on Red Bull TV, before Top 16 gets underway at 6.00pm local time. Check out our full list of Qualifying results and tomorrow's Top 32 battle bracket below, then make sure you tune in live tomorrow to see what way the fight for the DMEC 2022 championship crown lines up heading into the final 2 rounds of the season.
Backing up a fantastic performance during Friday's qualifying session, which saw him take 1st place on day one with a near-perfect 99-point score, Polish driver Piotr Wiecek overcame one of the strongest grids ever assembled in the Drift Masters European Championshio here in Riga, Latvia to defeat good friend James Deane to be crowned the 2022 King of Riga. Here is all you need to know:
Wiecek overcame Swedish driver Pontus Hartman in the Top 32 at the Bikernieki Circuit, setting up a fantastic battle with local Latvian driver Janis Jurka during the Top 16. Victory at the Top 16 stage would set up an all-Polish battle with Adam Zalewski at the Top 8, where Piotr would overcome the Polish youngster.
All of that led us to an almost unbelievable battle with Irish youngster Conor Shanahan, the winner at Round 2 in Austria, in which Piotr proved simply too strong for Shanahan to set up the dream final with good friend James Deane.
Proving why he currently sits deservedly atop the DMEC championship standings, the final was another masterclass from Wiecek as he defeated Deane, taking his second event victory this season, having already taking top spot in Ireland at Round 1.
Rounding out the podium would then be Irish young-gun Conor Shanahan who, despite what he would have wanted, would win on the technicality of a bye run, with Norwegian driver Tor Arne Kvia suffering mechanical failure during the warm-up for the play-off battle.
Clearly delighted by his victory, Wiecek said: "It feels amazing to be here, to feel the atmosphere but especially to drive on this track and be successful is impossible to describe. It's so satisfying that you don't want to be anywhere else. We struggled a bit before Qualifying, but then I actually went on to make my best runs of the weekend in Qualifying. Then in the competition, we struggled once again to grip up and get the correct line, but somehow we managed to avoid some really big mistakes – I know I nearly went out in Top 32, where luck was on my side. I really can't believe I'm here on top spot at the end of the day, but I really am delighted to be here once again!"
Second placed Deane said: "Second place today is an absolute dream come true. At the start of the weekend, we were finding it difficult to get into the flow here, but lap by lap we got more comfortable and managed to get all the way to the final to battle Piotr. It was a tough one, but I was very happy with how close it was in the end and really happy to get second place and I'm definitely chasing that first place before the season ends this year."
With 4 rounds down, the championship fight is well and truly on with just 2 rounds left before the 2022 Drift Masters European Champion is crown. Next up our attention turns to Round 5 in Ferropolis, Germany on August 19th & 20th