Watch the Formula Drift Orlando live with drift.news and get the latest data!
DeNofa had an extremely tough path to his first win since Round 6 in Seattle in 2022. His Pennzoil / BC Racing Ford Mustang RTR Spec 5-FD was battered throughout the night. The carnage began in the Top 32 when he collided with Alex Holovnia (Ukraine) after the rookie made a mistake in Outside Zone 1. DeNofa hit him hard enough to launch the Mustang into the air, causing considerable damage.
In the Top 16, DeNofa had a blockbuster battle against three-time FD PRO Champion Chris Forsberg (USA). The win took Chelsea to the Great 8, where he defeated three-time FD PRO Champion and RTR teammate James Deane (Ireland).
In the Final 4, DeNofa was speared by Kazuya Taguchi at Inside Clip 2, again causing suspension damage to the RTR Mustang. After returning to the track for the second run, DeNofa won the heat with an engine misfire.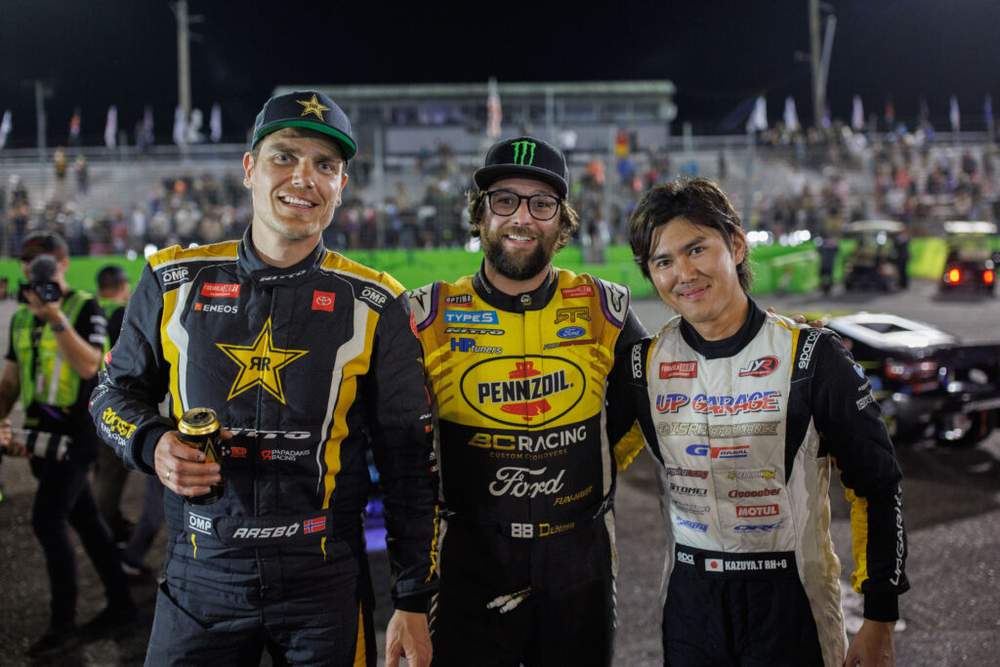 Revitalizing the V8 with new plugs and leads, DeNofa vanquished three-time FD PRO Champion Aasbo in an extremely close Final. The victory hoisted Chelsea from 10th to second in the 2023 FD PRO Championship.
Second place Aasbo amassed sufficient points over three rounds to lead the 2023 FD PRO Championship by 13 points despite not actually winning. Along with Deane and Forsberg, Aasbo is looking to become the first four-time FD PRO Champion.
Taguchi's third place reflects his qualifying position and reinforces the respect given to him by an increasing number of drift teams and experts. After a poor start to the season, the Orlando result catapults Taguchi from 25th to 12th in the FD PRO Championship.
Dylan Hughes (USA) finished fourth in the Whip Racing / Royal Purple BMW after a close contest against Aasbo in the Final 4. Hughes also received a healthy bump from 13th to 6th in the title race.
Coming into Orlando, Matt Field (USA) in the Borla Performance / GT Radial Corvette was leading the Championship by a healthy 40-point margin. He was eliminated from the Top 16 by Ryan Tuerck (USA) after a titanic conflict that saw the rivals run six times before the judges could separate them. Placed 14th overall, Field now sits third in the 2023 Championship.
Hughes purged the top qualifier Tuerck in the Rain-X / Nitto Tire / Rockstar Energy GR Corolla from the Great 8. Tuerck collected enough points to rise from 11th to 5th overall.
The top Rookie was Diego Higa (Brazil) again, who placed 28th in Orlando driving his Toyota GT86, putting him 29th in the Championship table.
After the third round, Ford has extended its lead in the 2023 Formula DRIFT PRO Auto Cup, while Nitto regained the lead of the Tire Cup largely thanks to the performance of DeNofa and Aasbo.