Returning to the track where it all began 20 years ago, Michelin Raceway Road Atlanta has always been a special place for Formula DRIFT teams and fans. The natural amphitheatre created by the purpose-built course plunges up and downhill, making it unique among the scheduled venues. It's the only course where drivers start and finish at the same place, providing spectators with an unimpeded view of all the action.
Recognizing the significance of the 20th Anniversary season, a number of key drivers have returned to the series. They would play a decisive role in the Formula DRIFT PRO Championship Round 2: TYPE S Road to the Championship presented by AutoZone. And it would play out in front of the largest crowd in the event's 20-year history.
Fans were also treated to the opening round of the Link ECU PROSPEC Championship, which brought its own brand of fireworks. As the feeder category for the PRO Championship, this is where future champions cut their teeth, and, as always, the Rookie drivers played a significant role.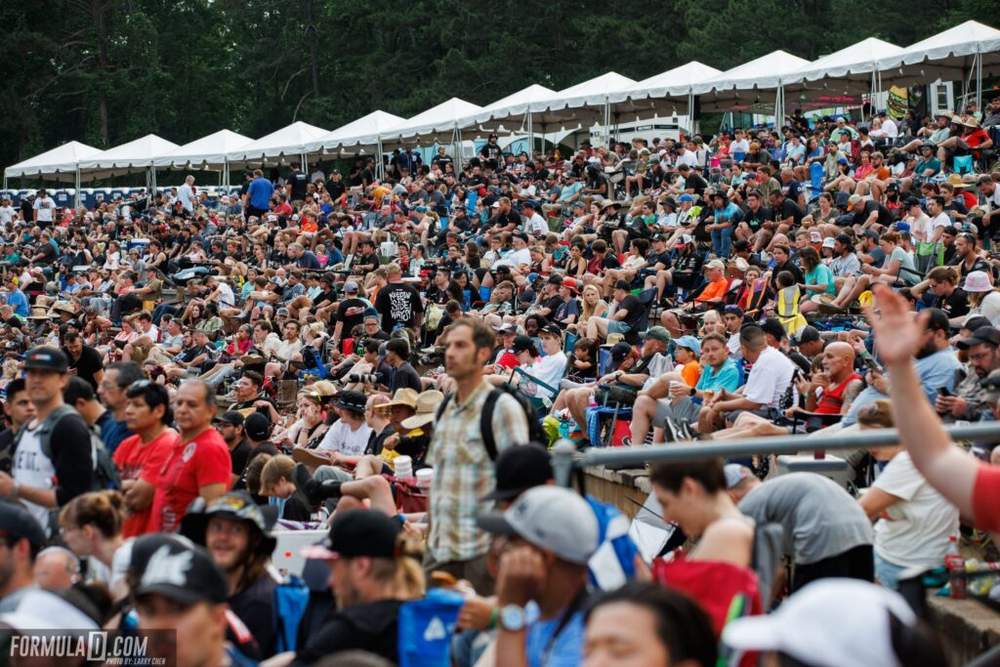 Despite the threat of rain, the track remained dry throughout qualifying and competition, giving drivers their chance to shine.
PRO QUALIFYING
After a year away and having sat out the first 2023 round in Long Beach, double Formula DRIFT PRO Champion Vaughn Gittin Jr (USA) returned to the series with his characteristic bravado. Qualifying first, he laid down a remarkable 93.3-point run that nobody could touch for the remainder of the K&N Qualifying session.
Fans and teams alike were excited to see Gittin Jr behind the wheel of his Monster Energy Ford Mustang RTR Spec 5-FD, and, without running the full season, he can enjoy competing without the pressure of mounting a championship challenge. But make no mistake, Gittin Jr will undoubtedly be a major disruptor throughout the season.
Another FD PRO returnee, Forrest Wang (USA), put his Yellowspeed / NRG Nissan S15 in second position with a strong 91-point run that delighted his legion of fans. A highly skilled driver who lasts competed in 2018. Everybody was delighted to see him making headlines again.
Nipping at his heels was Aurimas "Odi" Bakchis (Lithuania). He came agonizingly close to Wang with a score of 90.6 in the Feal Suspension / GT Radial Nissan S15. The perennial bridesmaid, Bakchis, is due a championship, and his fans are hoping this is the year.
The leading Rookie qualifier was Diego Higa (Brazil). As the eight-time winner of Super Drift Brasil, Higa brought tremendous experience and placed fourth overall after scoring 88.3 points in his Toyota GT86.
Reigning Champion Fredric Aasbo (Norway) qualified for the Rockstar Energy Toyota GR Supra in seventh again, as he did in Long Beach. His 86.3-point score was marginally better than Championship leader Matt Field (USA), who placed ninth in the Borla Performance / GT Radial Corvette with 85.6 points.
With 35 PRO drivers hoping to qualify for FD ATL, three would be disappointed. And after the lowest-scoring 11 drivers completed their second qualifying runs under the Knockout Qualifying Format (KQF) rules, we bid a sad farewell to Alex Holovnia (Ukraine), Joao Barion (Brazil) and Ryan Litteral (USA).
PRO COMPETITION
There was an incredible sense of serendipity when Vaughn Gittin Jr (USA) positioned his Monster Energy Ford Mustang RTR Spec 5-FD alongside Chris Forsberg (USA) in the NOS Energy Drink / GT Radial Nissan Z. The same two drivers had competed against each other in the Final at the very first Formula DRIFT event at Road Atlanta. And 20 years later, they would do it again.
Twenty years ago, Forsberg won that first Final and would subsequently claim three FD Championship titles. Twenty years later, Gittin Jr took the win, adding to his trove that included two Championship titles of his own.
With emotion rising to the surface, both men hugged as they reflected on a journey that has taken an unknown sport to the height of global success, in large part thanks to their skill and determination.
For Gittin Jr, it was the culmination of the perfect weekend. Not simply because he also qualified first but because it vindicated his decision to sit out 2022 and participate in a partial 2023 season. He'd lost none of his ability, determination or aggression. He continued to dominate opponents and win fans. The universe was perfectly balanced at this moment.
Gittin Jr's route to the Final initially saw the double FD PRO Champion line up against reigning PROSPEC Champion Robert Thorne (USA) in the ASM E46 BMW Sedan Pro Edition. The Top 32 battle set the tone for the evening, with the Mustang RTR driver demonstrating unmatched speed and precision. In his attempt to keep pace, Thorne ran deep at Inside Clip 1 (IC1) and was never able to regain proximity despite Gittin Jr dropping two tires into the dirt at Outside Zone 2 (OZ2).
With the positions reversed, Thorne demonstrated why he was a Champion, but so did Gittin Jr. He attached himself to the BMW's door and wouldn't let go until they crossed the finish line.
In the Top 16, his opponent Alec Robbins (USA) spun in OZ2 on both runs trying unsuccessfully to stay close to or keep ahead of the Mustang.
The Great 8 contest was against Matt Field (USA) in the Borla Performance / GT Radial Corvette, a man possessing similar driving abilities, who dominated the 2022 season, and currently leads the FD PRO Championship. Both men knew it was a battle to the death, and fans were on the edge of their seats to catch every twitch of the steering wheel. Conducted at full speed and buried in clouds of tire smoke, Gittin Jr again emerged victorious thanks in part to his proximity in the chase position.
Despite the loss, Field extended his lead in the title chase thanks to the premature departure of his nearest rivals. Triple FD PRO Champion Aasbo eliminated Rome Charpentier (USA) in the Top 32 but was himself jettisoned from the Top 16 by triple FD PRO Champion James Deane (Ireland) – another of the major stars who returned for the 2023 season. Deane, in turn, would be purged by Forsberg en route to the Final.
Serendipity made another appearance in the Final 4, where Gittin Jr was paired against Kristaps Bluss (Latvia), driving the HGK E92 BMW Eurofighter. Returning to FD PRO for the first time since 2018, Bluss had won the Road Atlanta round that year, and none of his skills had been depleted. Driving the same BMW in a similar livery, Bluss had knocked out Ryan Tuerck (USA), Daniel Stuke (USA) and Dean Kelly (New Zealand) on his way to the semi-final.
Having muscled a path through the field, Bluss repeated the formula against Gittin Jr, bumping his door twice as they drifted through IC1 before tapping the Mustang's bumper when Gittin Jr attempted to transition through the Touch & Go zone. The contact was sufficient to unsettle the Ford, causing it to rotate into the dirt. However, the BMW suffered, needing to be towed off the course. With his only five-minute Competition Time Out (CTO) previously utilized, Bluss had no time to repair the car and was forced to forfeit.
And that's how Gittin Jr came to be alongside Forsberg for the Final. The driver of the NOS Energy Drink / GT Radial Nissan Z had qualified 15th and wrestled through the competition heats, eliminating some of the best names in FD PRO, including Jhonnattan Castro (Dominican Republic), Forrest Wang (USA), James Deane (Ireland) and Aurimas Bakchis (Lithuania).
The Final would be a bare-knuckle scrap. Starting in the lead position, Gittin Jr left the line like the devil was on his tail. Forsberg ran deep through IC1 as he tried to match the Mustang's speed. Losing proximity, he closed on Gittin Jr in OZ2 and held him tight until the end of the run.
With Forsberg in the lead, he seemed in less of a hurry, initiating late into IC1, causing Gittin Jr to adjust his approach. With Normal service resumed, the pair plied their trade through the remainder of the course, Gittin Jr covering Forsberg like a rash.
It transpired the Nissan Z had deleted fourth gear, giving it's pilot an additional challenge. And it was a factor in handing Gittin Jr the win, reversing his fate from 20 years ago with poetic justice.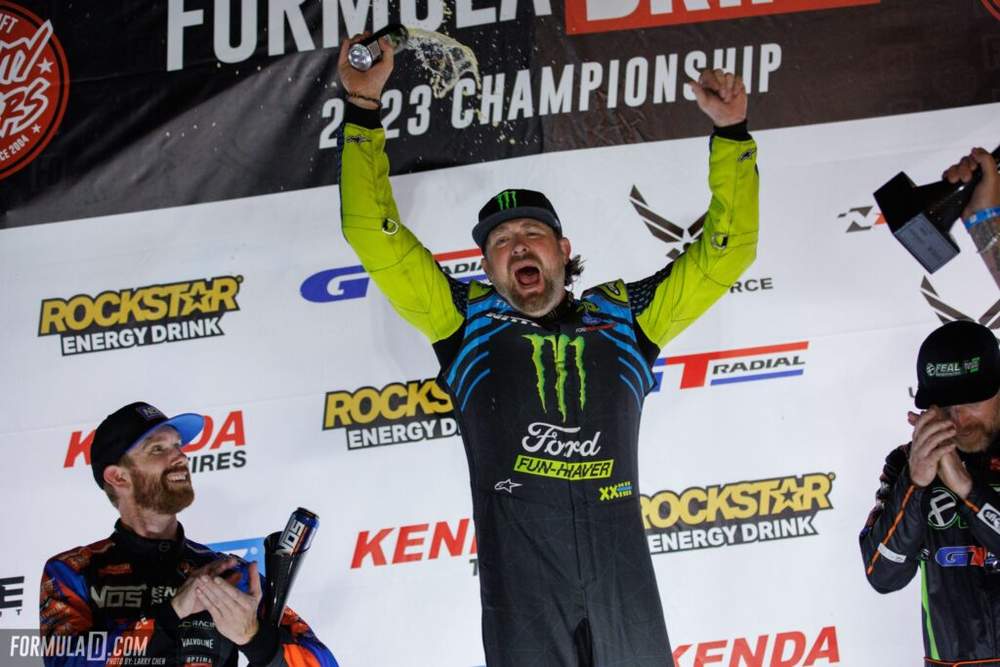 "Chris beat me 20 years ago, and it was amazing to be competing against him 20 years later," Gittin said immediately after his victory was announced. "I was feeling confident coming into Atlanta, but I didn't expect to run against this field of drivers and have a perfect event. I'm happy to represent my team, which has killed it all weekend. They supported my dream of running three cars this year, reflecting the passion of the amazing men and women at RTR. It puts smiles on faces and proves my motto; cool shit wins!
"We're at the greatest progression of the sport, and I'm pumped to have won in Atlanta. I'm also excited that my decision to run a partial season has worked out because I love drifting, but I have to balance my life. And having a partial season allows me to commit to pouring my heart and soul onto the track. We did that tonight, and I plan on doing it in Seattle, Utah and Irwindale."
Third place went to Bakchis in the Feal Suspension / GT Radial Nissan S15, while the top Rookie was again Diego Higa (Brazil), who placed 17th in his Toyota GT86. But with only two Rookies in the 2023 FD PRO Championship, it's going to be a fight between Higa and Alex Holovnia (Ukraine) for the Rookie title.
After Round 2, Ford took the lead in the 2023 Formula DRIFT PRO Auto Cup, and GT Radial jumped to the top of the Tire Cup.
Before we can wrap up FD ATL, we're contractually obligated to give the final word to Formula DRIFT President Ryan Sage: "Atlanta has always been a special place for us. It represents our history, but we can also bask in some incredible nostalgia as we watched Vaughn qualify first and get the win. He's doing a partial season, but he's made his presence known. He's a force of nature, and it was incredible to see him battling one of his best friends. They're both legends of the sport, and, of course, Odi Bakchis finished third as the old guard refuses to die. They won't go away; they will not be pushed around by the young guns. And I can't think of a better way to celebrate the 20th Anniversary of our first event than by essentially re-enacting it with two superstars who entertained the fans all night. We're in Orlando in just two weeks, and I really hope this energy continues to grow as the season progresses."