Drifting is an exhilarating and adrenaline-pumping motorsport discipline that involves skillfully manoeuvring a vehicle around corners in controlled drifts. While there are numerous talented young drifters worldwide, one individual, in particular, stands out – Stavros Grillis. With his impressive driving style and passion for the sport, Stavros has earned the reputation as one of the kings of European drifting. In this article, we will delve into his background and explore his remarkable achievements and future plans.
Stavros Grillis
Stavros Grillis was born in Greece on the island of Kos. While growing up with a deep passion for motorsport, he discovered his love for drifting at a young age and started honing his talent on various tracks. He quickly drew the attention of the drift community with his unique driving style and ability to get the most out of his 750-horsepower strong vehicle, a Toyota Corolla AE86 "Hachiroku" from the 1980s. Thanks to his breakthrough in Greece and Cyprus, Stavro's talent did not go unnoticed, and he was given the opportunity to compete in prestigious events such as Drift Kings and Drift Masters.
Both are series of drift events where the best drifters from all over Europe compete against each other. Stavros Grillis made a name for himself in these series because of his spectacular (almost backwards) drifts and fearless driving style. He has participated in numerous events and gained a lot of podiums that built a reputation as one of the best drifters in Europe. But Stavros Grillis still has many goals and dreams that he wants to achieve. With his determination and tireless dedication to work, he will, by no doubt, continue to establish himself as one of the best drifters in the world.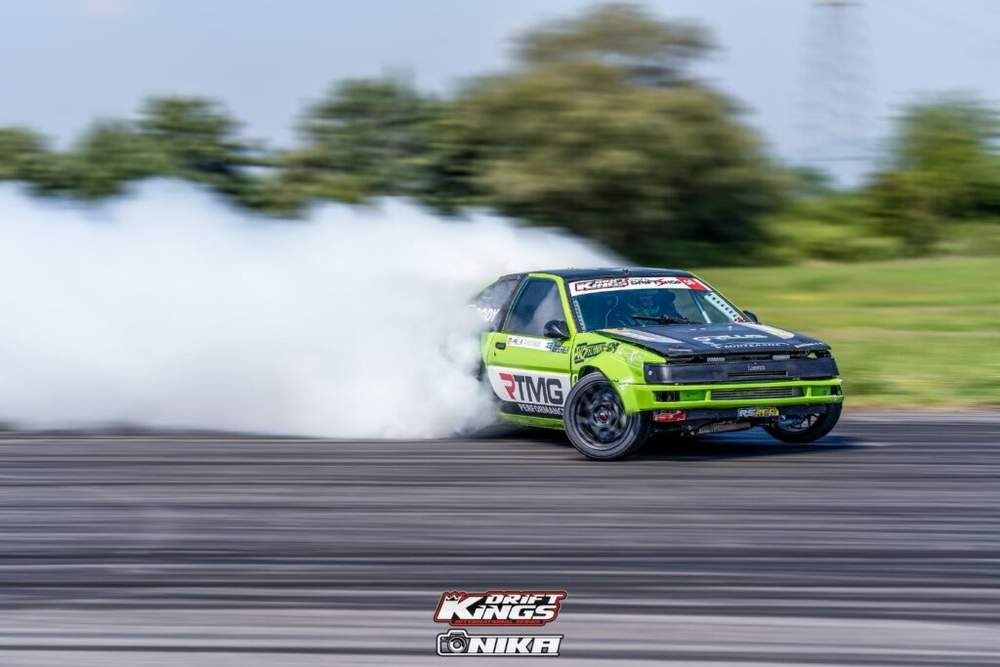 You became the youngest drifter in the world when you started professional drifting, which even earned you an entry in the Guinness Book of Records. Was that the point when your career received a kickstart with new sponsors?
I was almost in the book. Due to some paperwork, the procedure stuck, so we had contact with Guinness, but because of some paperwork, I didn't manage to officially get in the book. Everything started in 2012. We did a local event on the island of Kos in Greece, where I live, and we had invited some people who were holding the Greek Drift Championship back in those days. They made a video of me, and in one day, it got many views. Now, it has over 1 million views. This was the kickstart. I had some support from some people and some sponsors, but from then until now, I have not received a very big amount of money as many people may imagine.
You started your career young and achieved your first rewards and podium finishes. What did your fellow competitors say about the kid who took away their trophies?
They were trying to motivate me because they believed that young drivers were the future of motorsport.
You had great success in the Drift Kings Championship, which led to your decision to join Drift Masters the following year. How did it feel to have the opportunity to compete against the best drifters in Europe? And what were your initial goals for your first season in Drift Masters?
It was insane and amazing to compete with the best drifters in Europe. The level is super high. You must always drive over 100%. It is just insane. In the first season, we tried to get experience and see at what level we were comparing to the best. We found disadvantages and issues with the car that we never experienced again because we didn't have to meet such a level again. So that was our goal. To get experience and get better and better.
Last year, a broken gearbox and a few minor issues prevented you from completing an entire Drift Masters season. Will you be returning for the upcoming season?
Now, we are building a new car, and we will come back to DMEC again. I don't know if it is the next season, but we will be back.
Can you share with us what it is? Is it another AE86 or something different?
So, the new car is a BMW E36. Some people will say it is old and it would be better to build something, fresher. My training car is a 4-cylinder E36, and its driving behaviour is amazing. So, we thought a pro-level E36 with a strong 4-cylinder engine would be very good. So, we are building an E36 with the same engine as the AE86. We focus a lot on weight.
When can we expect to see you competing again?
This year we will have some races in Greece. Maybe next year, maybe in 2025, we will make some races in DMEC with the new car.
Thank you, Stavros. It was a pleasure working with you.
I want to thank you for the interview and your interest! I would also like to thank my sponsors and supporters for helping me make my dreams come true!
Gallery