The 2023 Formula Drift season has started in the streets of Long Beach.
Top qualifier Tuerck repeated his performance from 2022 with an astonishing run that saw him tap the Corolla's rear bumper against each outside zone, receiving 98.33 points from the judges, including a perfect X-factor score. And thanks to a bye run through the Top 32 heats, Tuerck is in great shape for tomorrow's competition.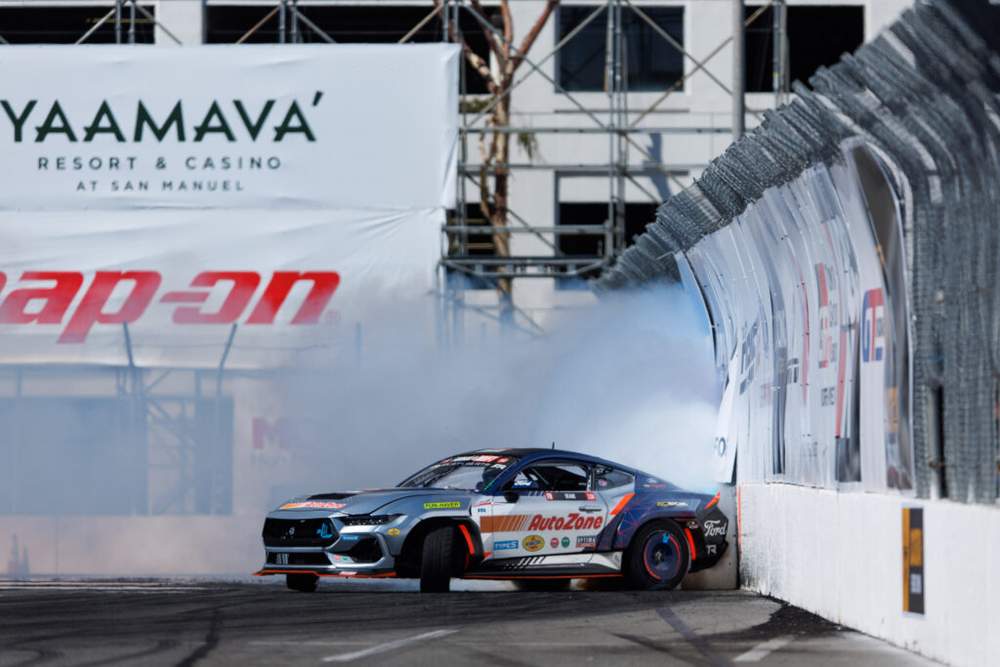 Second-place Deane scored 92.66 points and held the top spot for almost the entire K&N qualifying session. And after receiving his own bye run, the three-time FD PRO Champion confirmed that despite a brand new car and three-year absence, he's going to be a major threat this season.
Third-place DeNofa (and Deane's RTR teammate) similarly repeated his 2022 qualifying position, scoring 92 points and narrowly losing out to the Irishman.
Reigning and three-time Champion Fredric Aasbo in the Rockstar Energy Toyota GR Supra could only qualify seventh with 85.66 points, making his path to the Final more challenging.
Following a spin on his first run, Matt Field – who finished second in 2022 and led the FD PRO Championship for the majority of the season – participated in KQF where he qualified 27th with 78.66 points. Field's Top 32 heat in the Borla Performance / GT Radial Corvette will see him matched against three-time FD PRO Champion Chris Forsberg (USA) driving the NOS Energy Drink / GT Radial Nissan Z, which will be an intense start to their day.
Forrest Wang (USA), who returns to the FD PRO Championship after a four-year absence, qualified his Yellowspeed / NRG Nissan S15 in a strong fifth position with a score of 88.33 points. The fan favourite will undoubtedly be hoping to cause an upset in the competition heats.
Drivers relegated to KQF included Mike Power (USA), Nick Noback (USA), Robert Thorne (USA), Matt Field (USA), Jonathan Hurst (USA), Adam LZ (USA), Kyle Mohan (USA) and Joao Barion (Brazil). Barion and Mohan failed to complete a second run, handing bye runs to the top two drivers.
2022 Formula DRIFT PROSPEC Champion, Robert Thorne, qualified 28th with 74 points and was happy to survive KQF in his ASM E46 Sedan PRO Edition.
A new scoring procedure saw all three judges assess line, angle and style, allotting up to 90 points each, with an additional 10 points awarded for the "X factor." The points awarded are an average of all three judges' scores.