By winning Round 6, DeNofa is the first driver to claim two wins in 2023. His victory is the fourth win for the dominant RTR Motorsports this season. His teammate James Deane finished third DeNofa's win means he climbed to the top of the Formula DRIFT PRO Championship standings for the first time this season with a 28-point margin to Aasbo in second place. Deane remains the only one of the four RTR drivers without win this season as he learns the immensely powerful Ford Mustang RTR, but two races remain.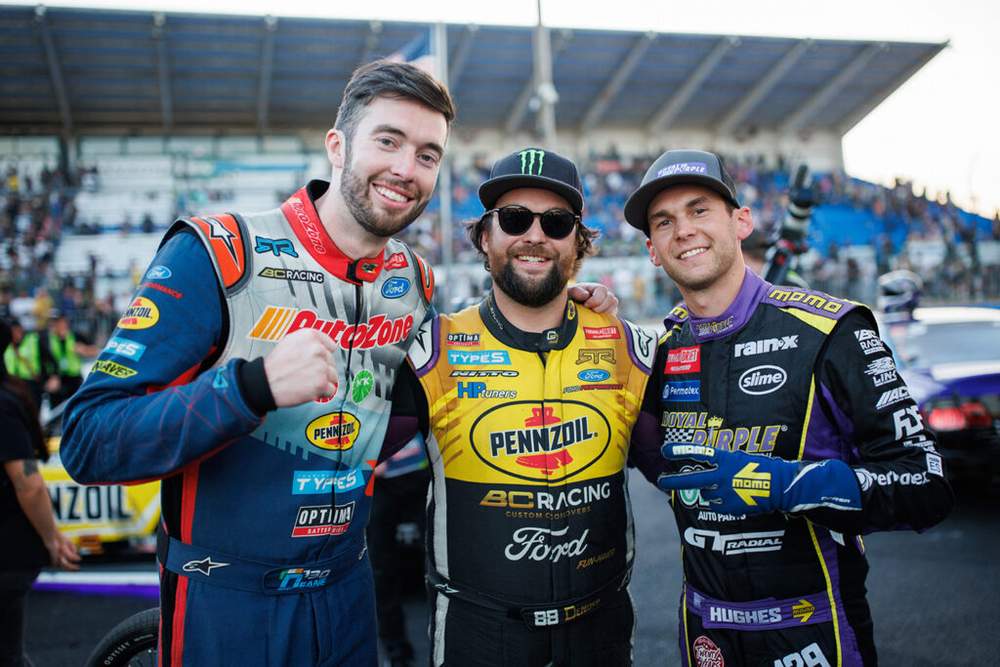 Hughes lost a scrappy Final to DeNofa after exceeding track limits on his lead run before colliding with DeNofa in the chase position and going off course again. This was his first visit to the podium since his Orlando win in 2022. Hughes drove all weekend with a splint on a broken finger.
The judges issued eight requests for One More Time (requiring the drivers to repeat their two runs). Six of these fell to Hughes and DeNofa, who received three each throughout the day, putting the drivers, cars and teams under even more pressure.
In a major upset, both Fredric Aasbo (Norway) and Matt Field (USA) – the drivers sitting first and second, respectively, in the FD PRO Championship table coming into Seattle – were knocked out of the Top 16.
Aasbo was eliminated by teammate Ryan Tuerck (USA), finishing the event in the tenth and dropping to second in the title race. Field placed ninth and dropped to fourth. With only two rounds left, the results put a small dent in their Championship aspirations, yet both remain strong contenders.
Aurimas Bakchis (Lithuania), who won the previous round, was eliminated from the Great 8 by Deane but remains third in the table. Teammate Simen Olsen (Norway) finished third in Round 5 but was knocked out of the Great 8 by Hughes. He remains fifth.
With two races and a maximum of 206 points available, 13 drivers still have a mathematical chance of lifting the 2023 FD PRO crown. The top four drivers are separated by 40 points
After Formula DRIFT PRO Championship Round 6, the success of RTR helped Ford extend its lead in the 2023 Formula DRIFT PRO Auto Cup and returned Nitto to the top of the Tire Cup.