With the K&N Qualifying session taking place on Friday afternoon, the majority of teams qualified on a dry track. Unfortunately, some of the lower ranking drivers had to deal with rain, as did the bottom eight who ran for a second time in the Knockout Qualifying Format (KQF).
Following his win in Round 2, the 2015 and 2021 FD PRO Champion Fredric Aasbo (Norway) set the benchmark with a 94-point qualifying run in his Rockstar Energy Toyota GR Supra. He gave the rest of the field a target to aim for and one they couldn't hit.
Chelsea DeNofa (USA) got incredibly close with a 93-point run in the Pennzoil / BC Racing Ford Mustang RTR Spec 5-FD. While Travis Reeder (USA) was scoring an identical 93 points in the Travis Reeder BMW M3. DeNofa placed second thanks to a single style point.
Championship contender Matt Field (USA) could only qualify ninth in the Drift Cave / Falken Tire C6 Corvette, and Chris Forsberg (USA) – runner-up at the previous round – scored 79 points and was relegated to KQF.
The top Rookie qualifier was Ola Jaeger (Norway) who qualified 18th with an 86-point run in the Team Japan Auto / Nexen Tyre Toyota Supra.
With 36 drivers attempting to qualify for the Top 32 competition heats, the bottom eight would run a second time to stay in the competition. Forsberg was among them but a dazzling 89 point run secured his place, albeit in 29th position.
Sadly, Simen Olsen (Norway), Joshua Love (USA), Kyle Mohan (USA) and Joao Barion (Brazil) were eliminated from the competition heats.
COMPETITION
Rain should be expected in Florida; thunder and lightning isn't unprecedented; but it was a tornado warning that had everybody on their toes. However, Formula DRIFT is an all-weather sport and the show goes on, albeit with safety delays to clear the metal grandstands and livestream camera towers when the lightning came too close for comfort.
Through it all, Dylan Hughes (USA) embraced the challenges and emerged victorious in the DHR / Royal Purple / Falken Tire BMW, fulfilling the promise he's shown since graduating from PROSPEC in 2019.
Having qualified in sixth position with a strong 91-point run, Hughes faced a wet track for the first time this weekend in the Top 32 heats. His opponent was Federico Sceriffo (Italy) who was enjoying greater success in 2022 thanks to a new single-turbo V12 set up on his "Fiorella" Ferrari 599 GTB. However, Sceriffo misjudged the start-line procedure for the first run and failed to launch handing Hughes a massive advantage: something he couldn't overcome despite a good lead run.
Progressing to the Top 16, Hughes faced another V12-engined supercar. This time it was the twin-supercharged 2022 Heart of Racing Aston Martin Vantage driven by Darren Kelly (New Zealand). However, the Kiwi was frantically working on the supercar after a collision with Alec Robbins (USA) in the previous round. Unable to replace a suspension A-arm in time, and unwilling to risk the car against the concrete walls surrounding the banked oval, Kelly was forced to retire and Hughes advanced.
With the drenched track finally dry during the Top 16, Hughes was greeted by a tornado warning moments as he lined up for his Top 8 battle with qualifying star and close friend, Travis Reeder. As staff and spectators scurried for cover from gusting winds that preceded torrential rain followed by a thunderstorm, the two BMW drivers were sent back to their pits while the situation was assessed. As officials continued to instruct fans to seek shelter, Hughes and Reeder emerged from the pits to take sighting laps. Unintimidated by standing water and sideways rain, Reeder set a decent lead run given the conditions, while Hughes mimicked his lines from a distance, cutting Outside Zone 2 (OZ2) to close the gap over the finish line.
With Hughes taking the lead, Reeder knew he just needed to maintain better proximity than Hughes to take the win. Drifting down the banking, he miscalculated the standing water and was forced to straighten. Undeterred, Reeder re-initiated his drift but again straightened and eventually spun in OZ2. His valiant effort was unrewarded and Hughes headed to a Top 4 encounter with Matt Field.
Refusing a sighting lap, Hughes led the first run but made contact with a hard-charging Corvette as he flicked the car to initiate into the first turn. With his rear bumper dragging, Hughes continued the run as Field spun out in OZ1. With an incomplete run against him, Field held nothing in reserve on his lead run but Hughes just had to finish cleanly to reach the Final where his adversary would be Forsberg, who overcame his qualifying problems to go for gold.
The Nissan Z driver had battled and beaten Jhonnattan Castro (Dominican Republic) in the Top 32, Dan Burkett (USA) in the Top 16, Rookie Daniel Stuke (USA) in the Top 8, and slugged it out with Aasbo in the Top 4.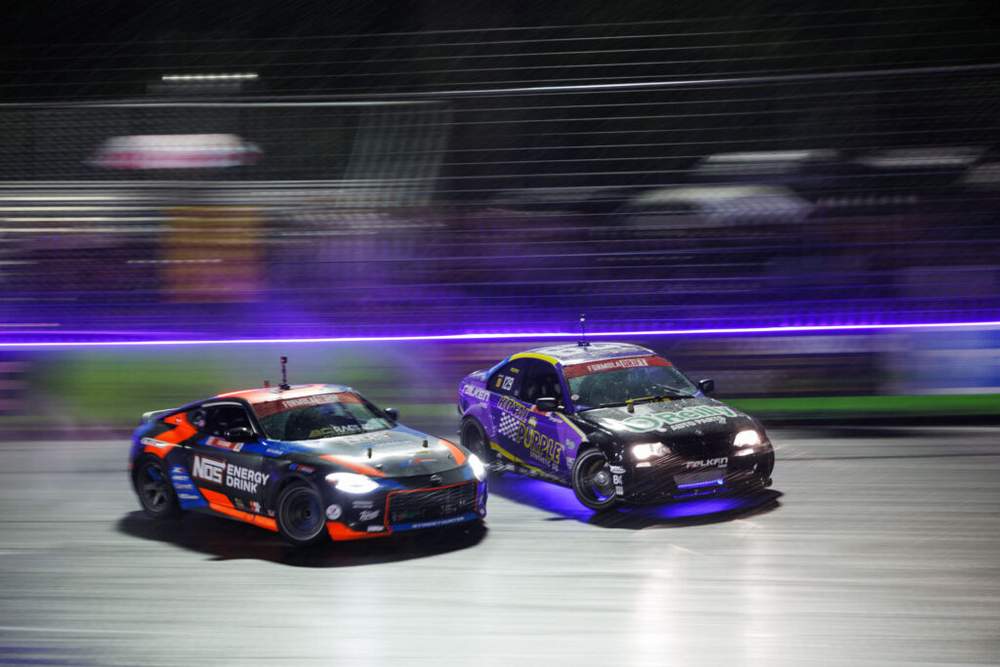 Despite deteriorating track conditions under driving rain and lightning strikes, both men declined a sighting lap and went for glory. Both set lead runs that mocked the rain, hitting their marks with dazzling skill.
With the cars pulled up to the podium, the drenched drivers discovered Hughes had been victorious; an announcement that was quickly followed by a tearful downpour from the winner. As only his third podium, this was Hughes' first FD PRO victory and he was quick to credit Forsberg with his success: "I worked for [Chris Forsberg] for a long time and he taught me pretty much everything I know about drift, so to battle him in the Final was sick and I'm super-happy with the result," Hughes told us. "Overall it was an insane weekend and finishing the event after this insane weather was incredible. This was a day I've dreamed about since I started working with Chris in 2014. He's been a mentor and to be able to come out on top is unbelievable. At the end of today, I definitely don't hate the rain as much as I used to… Hopefully we can continue this momentum and hope for more rain at the next round!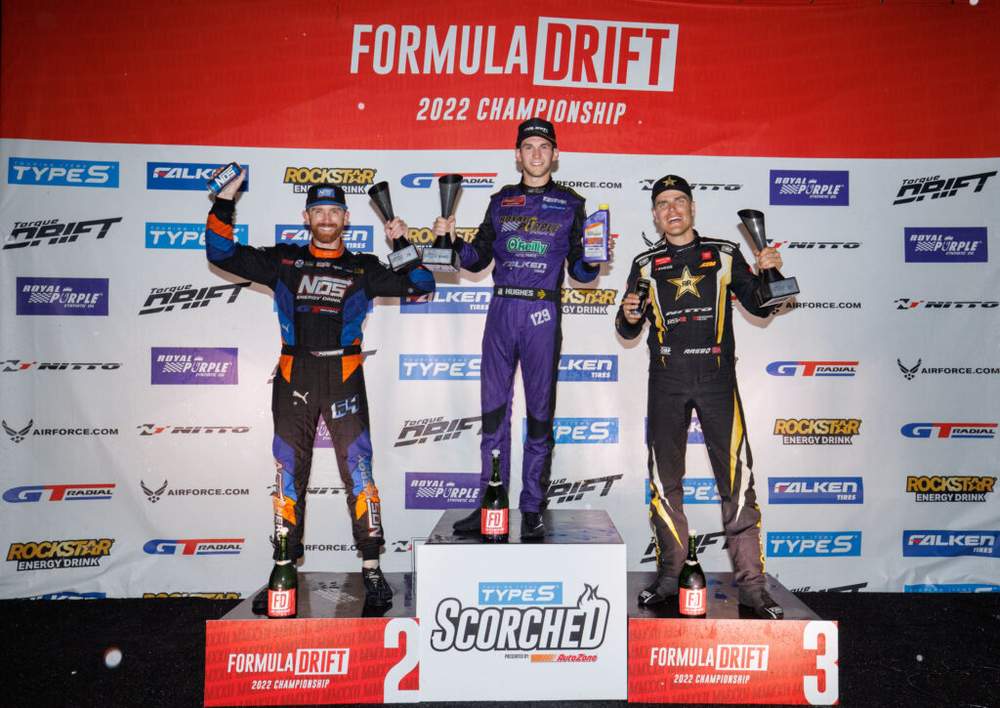 Hughes climbs to fifth in the FD PRO Championship standings, Forsberg is in third overall, Field's fourth place on the night keeps him second in the Championship behind third placed Aasbo who retains his lead of the FD PRO title chase. The top Rookie at FD ORL was Stuke who finished 8th in the Stuke Racing / MspeK Performance Nissan S14.9.